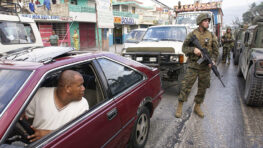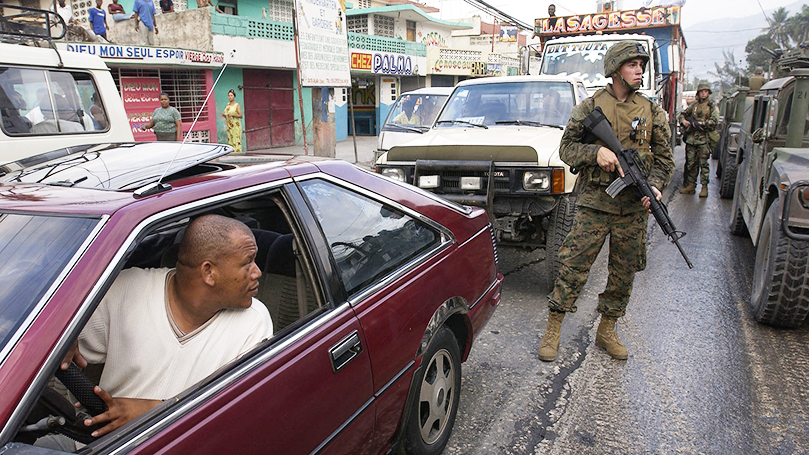 Once again the major corporate media, including the New York Times and Washington Post, call for military intervention in Haiti. Yet one would have to search painstakingly to find when these bastions of the "free press" last opposed sending the U.S. war machine or its proxies into another country. Or for evidence that Haitians are looking for yet another military intervention.
Economic and political chaos, gang violence, massive inflation on top of terrible long-term economic deterioration, shortages of necessities, and cholera — brought into Haiti by a militarized United Nations peace-keeping Force that has taken up to 30,000 lives — continue to rage: "Of Haiti's 11.4 million people, 4.6 million are food insecure and 70% are unemployed."
Despite these hardships there is no evidence that Haitians, aside from some of its tiny ruling class and unelected prime minister Ariel Henry, installed by the U.S. and its allied outside forces, consider another invasion beneficial.
To the contrary, working-class Haitians have been constantly demonstrating against unrepresentative governments, against U.S. support for them, against more foreign intervention, and against gang violence that often has the support of the same governments. Past interventions have replaced coordinated government services with a variety of nongovernmental organizations.
Indeed, it's long overdue that the U.S. end its repeated, historically destructive, anti-democratic interventions into the affairs of Haiti: "In the view of most scholars, the problems in Haiti are not due to internal problems, they are due to the ongoing role of foreign interference, primarily by the U.S." U.S. policies are not responsible for the catastrophic earthquakes and hurricanes that have befallen Haiti, but they preclude Haitian's ability to prepare, recover, and rebuild. "Hands Off Haiti!" makes more sense to Haitians and to all of us showing solidarity with the Haitian people.
Because enslaved Black Haitians dared to free themselves and secure their independence from France through revolution in the early 19th century, France then blockaded Haiti militarily and extorted Haitians to hand over much of their national treasury for over a century to pay for their own freedom.
A century ago, U.S. imperialism replaced the French version. The U.S. invaded Haiti in 1914 with Marines, stole the assets of the Haitian National Bank, and invaded again in 1915. Troops remained, slaughtered Haitian resisters, and introduced Jim Crow policies that engendered a light-skinned, elite ruling bourgeoisie, until 1934. U.S. banks took over Haitian "debt" to France and profited handsomely on the interest. Subsequently, the U.S. supported a series of autocrats and then propped up the two Duvalier dictatorships for three decades.
After Haiti's first truly democratic elections in December 1990, the U.S. overthrew the two landslide victories of the democratically elected Jean Bertrand Aristide governments. First, in 1991, while imposing devastating neoliberal economic programs that included the demolition of Haitian rice farming when the Clinton administration forced Haiti to import subsidized rice, which buried Haiti's ability to feed itself; and again in 2004 after wreaking havoc by blocking all international aid to Haiti. Following the earthquake of 2010 U.S. troops invaded yet again while 99% of U.S. aid money returned to the U.S.
Most recently, evidence points the finger at U.S. allies for assassinating the highly unpopular, U.S.-backed President Jovenel Moïse in 2021. The U.S. continues to support his unelected, and also highly unpopular, successor, Ariel Henry, who is implicated in the 1991 coup and the Moïse assassination. Unsurprisingly, he calls for military intervention.
This past September, Velina E. Charlier, representing the anti-corruption group Nou Pap Dòmi, told the House Foreign Affairs Committee:
The policy of the international community and the United States towards Haiti has been a constant for years and has not changed. It has always followed a paternalistic and interventionist approach that often fails to serve the best interests of the Haitian people. Through its embassy in Port-au-Prince, the United States has continued to support leaders who have emerged from fraudulent elections or corrupt governments that have lost all popular legitimacy. The general impression of the population is that the United States does not listen to the Haitian people and only sides with the leaders who obey them.
The U.S. handles Haitian immigrants with policies no less despicable than the ones aimed at those living on the island.
In September 2021, Daniel Foote resigned two months after President Joe Biden appointed him U.S. Special Envoy to Haiti, citing "inhumane, counterproductive" treatment of Haitian migrants along the U.S. southern border. "The people of Haiti, mired in poverty, hostage to the terror, kidnappings, robberies and massacres of armed gangs and suffering under a corrupt government with gang alliances, simply cannot support the forced infusion of thousands of returned migrants lacking food, shelter, and money without additional, avoidable human tragedy," Foote wrote.
It is clear that imperialism emanating early on from France but later and continuing today from the U.S. has stifled Haitians' demands that they control their own destiny without foreign interference. Although U.S. imperialism has invaded many countries to overthrow their governments, prevent democracy, and seize the wealth of populations, a majority of whom are people of color, its treatment of Haiti represents a particularly vicious form of racism. U.S. imperialism is telling the world that it will not allow descendants of African slaves, who successfully threw off slavery and defeated a European power, to secure sovereignty and self-rule.
The CPUSA supports the demand that France repay the financial tribute it militarily forced Haitians to pay for over a century. We support the demand that the United States pay reparations to Haitians for its century-long interventions. We support the demand to end the tyranny of U.S. imperialism: No foreign intervention, no troops, no sanctions, no coercion.
Haitians shall determine their own future!
Hands off Haiti! Now and forever!
Image:  U.S. Marines patrol Port-au-Prince after 2004 coup, U.S. Airforce, Wikimedia (public domain).

Source: Communist Party U.S.A.